Sintertechnik
Mission and Vision
The foundation of our lasting success is based on an unwavering and continuous advancement and development of our products based on a certified quality management (QM) as per ISO 9001:2015. Our goal is to establish and further long-lasting partnerships with our clientele and suppliers through constant quality improvements and innovations in all of our products and processes. The application of our products ensures our customers an enduring competitive advantage. Our central focus is customer satisfaction, as well as our commitments and responsibilities to our partners, our personnel, the community and the environment.
Principle Guidelines
The quality of our products and our innovative capacity pertaining to customer-specific problem-solving in the material-engineering sector are prerequisites for the success of our company.
Each and every employee is responsible for their work and is therefore a significant and crucial part of our success. We aim for a zero defect policy.
The management and all personnel are committed to comply with all guidelines and procedures of the QM, as well as all regulatory and legal requirements.
All measures to implement our quality policies are effected within appropriate limits.
The efficacy of our QM-measures are measured and evaluated on a regular basis.
Goals:
A positive operating result based on:

Planning
Responsible management

A high customer satisfaction rate achieved through:

Quality and innovation
Punctuality and reliability
Flexibility in order execution
Optimal compliance and fulfillment of orders
Fast and efficient reaction times in case of complaints

Premium quality products and services based on:

Professional competence and qualifications of our personnel
Experienced, highly trained and motivated staff
Individual responsibilities of each member of our personnel
Communication based on mutual respect within a pleasant working environment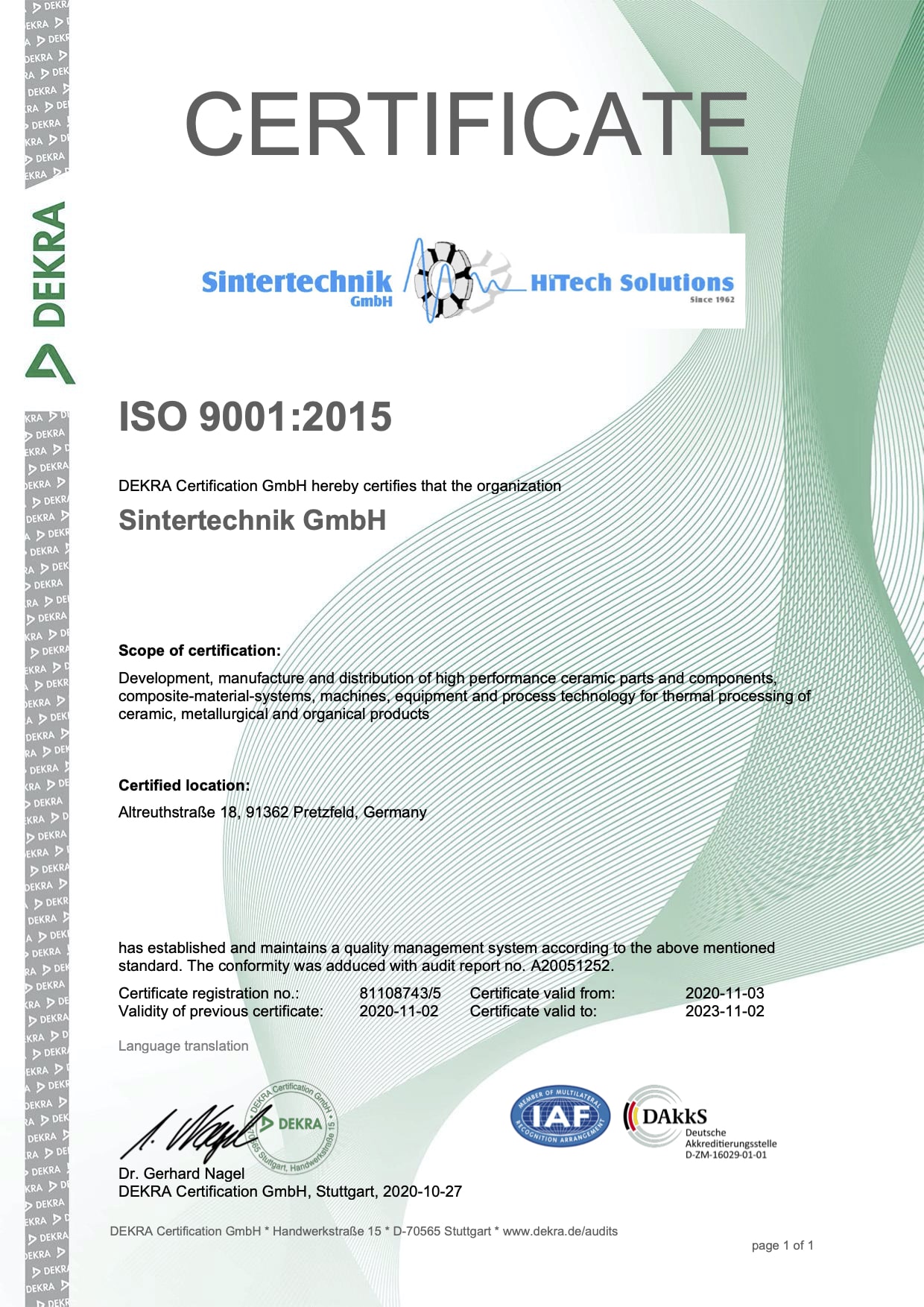 We are pleased to answer your questions and help find a solution to your problems with new and innovative materials.
Do you have a question you would like to ask, or perhaps your own materials do not meet the specific demands of a given application?
Then send us an e-mail.
E-Mail: verwaltung@sintertechnik.com
ADDRESS
Sintertechnik GmbH
Altreuthstr. 18
D-91362 Pretzfeld
Telephone: +49 9194 9550
Fax: +49 9194 4251
OFFICE HOURS
Monday – Friday: 8AM – 6PM